I'd just like to say a big thank you to everyone who has supported Noah Ukuleles throughout the past year. It was another busy year attending festivals up and down the country, with GNUF, Winchester Ukulele Festival and The Ukulele Festival of Great Britain among others.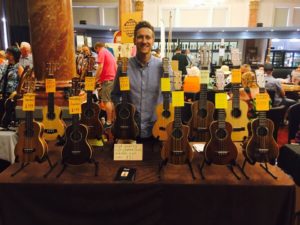 2017 also saw a new instrument added to the Noah range – the Noah Guitalale! It's proved very popular – so much so that it is currently out of stock, but we will certainly be making more in 2018. It was reviewed by Barry Maz on his outstanding Got a Ukulele website and achieved some great comments and an overall score of 8.6 out of 10. I actually have one myself, and it accompanied me on all our family camping trips in the summer, including a stay in France where I found a little cave to hide in!
Also featured on Got a Ukulele reviews this year was the Noah Mahogany Soprano. It was great to read how much Baz liked this model – describing it as his favourite Noah to date, and giving it an overall score of 8.8 out of 10!
Another highlight of the year was being in featured in the September issue of Matt Fuddle's brilliant UKE Magazine. Matt had some great questions to ask and the whole thing was a thoroughly enjoyable experience 🙂
Happy new year to everyone and look forward to seeing you all at Ukulele festivals throughout 2018!